Spring Centerpiece Workshop
Learn to make artificial floral arrangements
from the comfort of your own home!
This ONLINE video workshop will give you the skills to start
making floral arrangements you'll be proud of!!
Choose the Basic or All Access Package
Discussion of essential tools to get started

Learn basic elements and principles of a design

How to choose and coordinate supplies needed for your design, including containers, greenery and florals

Step by step tutorials with diagrams to make two stunning floral arrangements, complete supply lists included

Almost 5 HOURS of video content included!
All Access Package Includes everything in the Basic Package Plus:
Step by step tutorials to make eight more styles of floral arrangements with complete supply lists

Two pre-recorded Q&A sessions

Floral placement diagrams for three styles of designs

Over 17 HOURS of video content included!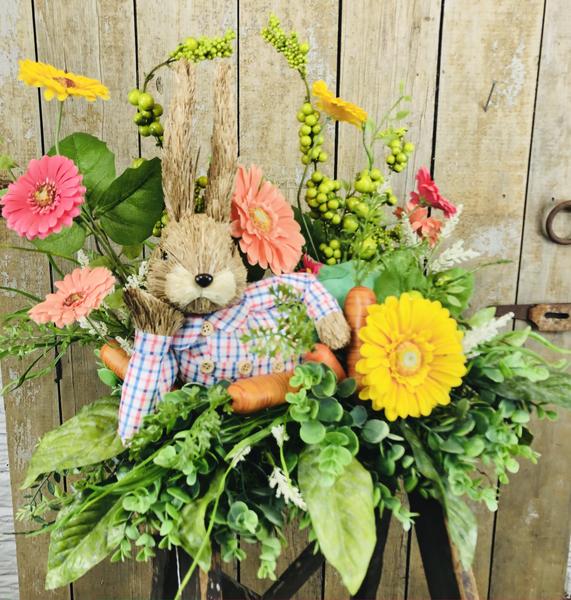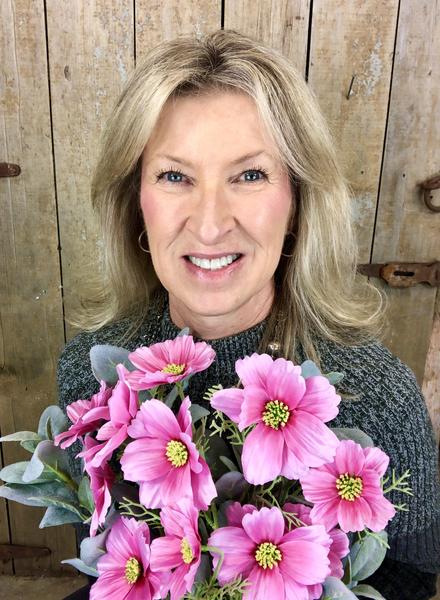 I am Teri Smith, the owner of aDOORable Deco Decor. I have been making and selling wreaths and small home decor items for as long as I can remember.
I have a passion for floral design and I love sharing my years of experience with others.
I often hear from people that they haven't made a floral arrangement yet because they have no idea where to start!
Don't know what supplies you will need to make professional looking designs?
You will learn how to choose supplies to start a floral arrangement from scratch!
Are you wanting to learn what flowers will work best together?
Learn my foolproof strategies to choose coordinating flowers that will best complement your design!
Are you wanting to start making centerpieces for your home or to sell?
Are you an experienced maker but still lack confidence in your designs?
Awesome...You are in the right place!!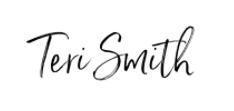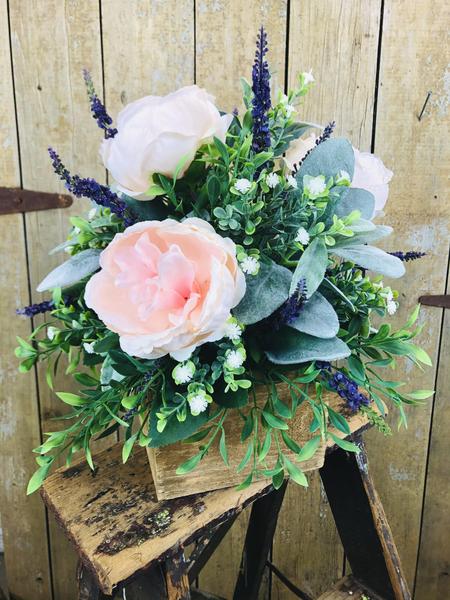 What Can You Expect to Learn?
In this workshop you will learn about essential tools you need to get started with floral arranging and where to get them.

Learn about basic elements of artificial floral design...containers, greenery, florals

Learn how to systematically develop your design and choose the necessary supplies with confidence.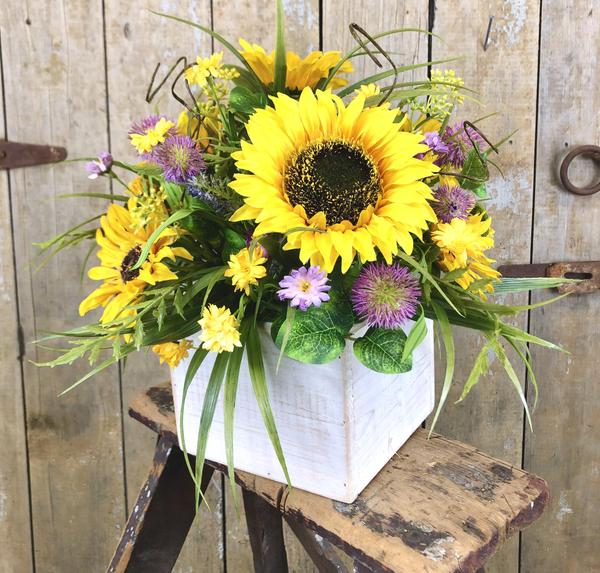 ****Due to the digital nature of this product, there are
NO REFUNDS once payment has been processed.****are Saying...
What Others are Saying...
Janet C
This centerpiece workshop was absolutely the best . Don't hesitate to join this workshop. Teri is an excellent teacher, she has a gift for presentation. Her designs were beautiful. No questions are unanswered. Teri will give you the confidence to make beautiful arrangements. Wonderful, stress free class. I will be waiting for the next workshop from Teri.
Amanda T
Teri does a wonderful job of keeping her audience captivated! She communicates with you the whole time she is creating. Teri makes sure you understand her explanation when a question is asked and you know she wants you to be successful when creating. I had no clue there were so many different recipes to wreath making and she explained them very well. I love her style!
Thanks Teri for everything! I watch all of your videos and can't wait until the next workshop.
Kristin C
Hi Teri! Just wanted to let you know how much I've enjoyed your workshop and how much I've learned! You truly have a gift and I'm so grateful for you sharing it with us!
Sharon R
I have been following Teri Smith and have been a member of her group, Teri's Wreath Works, for approximately 15 months.
I had been making simple wreaths and decorating lanterns before I met Teri. Her training, step-by-step instructions and easy, kind manner has made such a difference in my skills. I've learned so much from her from making better bows, wreaths that I can be proud of and centerpieces.
I opened an Etsy shop 16 months ago, and with Teri's help, tips and training, I've sold almost 300 items and have been successful in my area craft shows.
As a member in Teri's Wreath Works group, she gives step by step training and a supply list, so you can purchase the same supplies and are equipped to make a gorgeous wreath, centerpiece or lantern swag.
I'm so thankful for Teri's training, it's made a huge difference in my life and small business. She's my mentor and friend!
Pam H
This has been a wonderful course! Teri's attention to detail is the best I've seen. The variety of skills taught, along with basics of designing with texture, color and creativity makes the classes so enjoyable! Questions are always welcomed and answered. Overall, informative and FUN!
Joanie S
Thanks, Teri. I am enjoying every minute of the workshop.
Ria B
Terri's wreath making course has been excellent. I received much more than expected. Terri is professional and an accomplished designer who takes her time explaining the process and is always available to answer questions.
Kathy H
I enjoyed taking the CWMB2. Teri was very informative and showed us wide range of items. She made it very easy to learn from and have fun doing it. She answered any questions we ask and took the time to help us in any way she could. I would very much like to thank her for for everting I have learned and looked forward to learning even more.
Teri's Centerpiece Workshop was a great learning experience. She carefully shows 'her work" and shares 'her thinking' so that we have an understanding of the design process and develop the confidence to try our own designs. If you have not had training as a floral designer, her workshop and tutorials would be the perfect place to start. If you already have a grasp of the foundational principles, then you will be inspired by her ideas and variety of arrangement styles.
Shirley K
Teri has given us the most detailed, valuable information possible for making centerpieces. Everything from design to picking out product. She shared a wealth of information with us. And this is just the tip of the iceberg as to the information and personal advice I get from her by being a member of Teri's Wreath Works group. I would highly recommend that you join our group. You will not be sorry!
Nancy K
Teri, first I want to tell you what a wonderful job you did in preparing and presenting such a detailed 3 day centerpiece workshop. The content presented was very well thought out and more than I would have expected for such an event. Each morning, you answered our questions from the previous day's workshop and prepared us for what was to take place in the afternoon. Each afternoon, we had at least 3 new centerpiece designs to learn how to make and most of these workshops lasted 2 hours. We were provided supply lists for each design, handouts showing where to place florals and greenery plus your detailed step-by-step instructions and thought process for the items going into the design.
While this was a very intense set of classes, the overall value of what you provided to each one of us was outstanding! You started the series by explaining the basics and then led each of us through your creative process. And we have access to all the videos and handouts for the next year so we can practice what we have learned.
In my four years of participating in workshops hosted by other designers, this workshop provided the most value to me as a creator. I can't wait to see what you provide for your community next! I will certainly be one of the first to sign up.
Claudia
I started making wreaths three months ago! First for fun then for a friend of mine. I was watching videos and trying myself.
While watching a video I found this wonderful site: aDOORable Deco Decor! Since then my creativity changed for good, my mind is always thinking on what I can do! I watched Teri for first time and she had the attention to say hi to me and I got connected right away! Two days later I was subscribed to this beautiful class and I have tried to follow every single detail! Teri has been so helpful and kind to any of my comments and have responded all my questions with interest and pushing me to open my senses to creat beautiful wreaths! Thank you Teri for this amazing opportunity!
Of course, I am in and so ready to start with next Christmas class!
Melody M
Teri has helped me learn so much about wreath making. Her boot camps have been very informative and fun, and she patiently explains everything along the way. I came to this group as a novice and now I am addicted to wreathing!